American WeatherStar (AWS) Liquid Applied Roofing Membranes -
America's Answer to a Leaking Metal Roof!
American WeatherStar metal roof coatings give building owners a number of benefits that include a seamless liquid applied application to help prevent leaks and create a more energy efficient interior climate control. These roofing systems are field applied, fully adhered, and seamless liquid membranes that can be used for metal roof maintenance and metal roof repair. When used for building roof maintenance, metal roof coatings may qualify for a 100% tax deduction the first year!
Looking for a Way to Restore and Protect a Non-Metal Flat Roof?
We do much more than just provide superior coatings for metal roofs. We can restore and protect all types of commercial flat roofs including modified bitumen, built-up smooth, built-up gravel, EPDM, single-ply, spray foam, and concrete.
Learn more about sealing, protecting, and preventing leaks to your commercial, low-slope flat roof here.
About Metal Roofs
Metal roofs are commonly found on commercial or industrial facilities. The benefit to a metal roof is it's cost efficiency during construction. The drawback to many metal roofs is they can be very challenging to keep watertight long term. Metal is such a conductor of energy, the UV rays from the sun cause the roof temperatures to reach 150°F-170°F during peak summertime weather. These temperatures cause the roof to expand and contract levels that cause the fasteners to eventually back out causing leaks in the building. Without proper maintenance most metal roofs eventually rust and degrade to the point where replacement is necessary.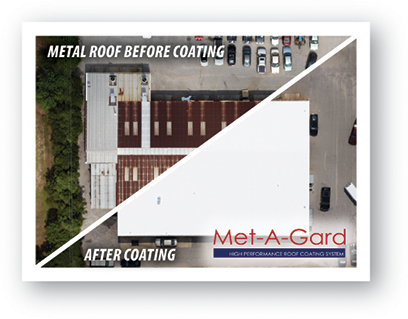 AWS offers several exclusive systems and plenty of options for restoring a flat roof using one of our many fluid applied roofing systems, spray foam, and coating systems. All of our metal roofing solutions offer:
Proven UV Stability
Stops Rust
Seamless water-tight membrane
Cool Roof = Cooler Building Interior
Saves Energy Dollars
No Business Interruption during application
Tax Deductible First Year
Benefits of an Elastomeric Roof Coating
AWS metal roof coatings are seamless, bright white, and reflective. This means, in addition to limiting the areas where a leak can occur - seams are one of the most common places where a roof leak begins - the bright white reflectivity of the roof coating makes the sun's harmful UV rays bounce off the top coat before harming the roof. This also reduces thermo-cycling, the destructive process where the sun's heat wears down the roof prematurely due expansion and contraction.
Seal and Protect Your Commercial Flat Roof
AWS uses elastomeric roof coatings that will seal and protect almost any roof substrate including modified bitumen roofs, smooth builtup roof, gravel built up roof, spray foam, concrete flat roofs, metal roofing, EPDM, single-ply, wood, steel, and most traditional roofing systems. Our roof coatings are rubber roof membranes that are liquid applied and require minimal roof top equipment. This provides the building owner with a business as usual condition during the roof coating application process. After the roof coating application is complete, we can offer a long term, roof coating manufacturer's material and/or system warranty to keep your mind at ease for years to come.
Certified Roof Coating Experts
AWS is backed by a nationwide network of approved contractors who are expert commercial roofers, well versed in the application of AWS roofing systems, and are ready, willing, and able to come to you and assess your roof's condition for free. We have roofing systems that are UL, FM, and Miami-Dade County approved. Energy Star products and systems are also AWS standards. To get started with your free roof assessment, visit your nearest city's website below or contact us now to find the AWS Approved Contractor nearest to you.
The AWS Metal Roof Network of Nationwide Websites